2023 IAG Young Scientist Award
Our Young Scientist Award was launched in 2006 as our Early Career Researcher Award. It is made annually for research by a young scientist that closely reflects the goals of our Association. The award aims to promote the careers of scientists who have either developed innovative analytical methods or provided new strategies to improve data quality as applied to the chemical analysis of geological or environmental materials. The award consists of a cash prize of $1000 US, plus registration and abstract fees for the next Goldschmidt conference.
We are proud to announce that the winners of the 2023 IAG Young Scientist Award are Jing-Yao Xu (IGGCAS, Beijing, China) and Ming Yang (Zhejiang University, China). They will be presenting their research at the 2023 Goldschmidt conference 9-14 July to be held in Lyon, France. During the conference they will also be receiving their IAG awards.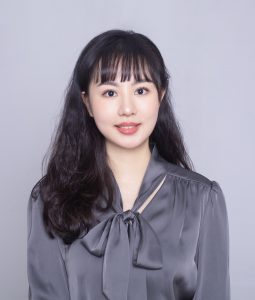 Jing-Yao Xu is a postdoctoral researcher at the Institute of Geology and Geophysics Chinese Academy of Sciences (Beijing) after receiving her PhD degree at the University of Barcelona. The main focus of her research has been the development of new reference materials and analytical methods for the microanalysis of stable isotopes of composition-variable minerals by secondary ion mass spectrometry (SIMS), and geological applications to trace mantle composition and magma evolution. She developed new dolomite reference materials for SIMS oxygen isotope analysis and a novel accurate and rapid on-line matrix effect calibration method for dolomite O-isotope analysis. The new on-line method takes SIMS 18O–16O–56Fe16O–24Mg16O measurements concurrently without additional Fe# values obtained by electron probe microanalysis, and is more accurate and effective than the traditional off-line calibration method. Moreover, the newly developed method1 has the potential to be applied to other stable isotopes of composition-variable materials. She used this SIMS method to determine the composition of a range of olivines from kimberlites worldwide, and her study2 sheds light on the modification of mantle-derived magmas by interaction with the lithospheric mantle. When Jing-Yao is not working, she enjoys reading and travelling.
Xu, J.-Y., Li, Q.-L., Tang, G.-Q., Lu, K., Liu, Y., Feng, L.-J., and Melgarejo, J.C., (2022), Accurate and efficient SIMS oxygen isotope analysis of composition-variable minerals: online matrix effect calibration for dolomite: Analytical Chemistry, 94, 7944–7951.
Xu, J.-Y., Giuliani, A., Li, Q.-L., Lu, K., Melgarejo, J.C. and Griffin, W.L. (2021) Light oxygen isotopes in mantle-derived magmas reflect assimilation of sub-continental lithospheric mantle material. Nature Communications, 12, 6295.
Ming Yang is an assistant researcher at Hainan Institute of Zhejiang University. The focus of his research has been the development of new reference materials (RMs) and setting up analytical protocols for isotope analysis of accessary minerals using LA-MC-ICP-MS.
Ming got hooked on geoanalytical research during his experience in running the laboratory as a student assistant. During his PhD, he started to work intensively on the geochronology study of W-Sn deposits. He set up a new protocol for wolframite and cassiterite U-Pb dating and also developed new wolframite and cassiterite RMs. The resulting methodology and RMs enabled him and his coworkers to solve the critical question of the timing and duration of hydrothermal W-Sn mineralization. He comprehensively documented the Lu-Hf isotopic compositions of some Chinese geological rock RMs and evaluated the homogeneity of these materials. He also developed several new allanite RMs for in situ U-Th-Pb dating and Sm-Nd isotope analysis.
Currently, Ming is working on the analytical procedure of in situ Hf isotope analysis on cassiterite, which will be important to constrain the origination of Sn deposits. When Ming is not working in the lab, he enjoys swimming and cycling.
Ming Yang et al. (2022). U-Pb isotopic dating of cassiterite: Development of reference materials and in situ applications by LA-SF-ICP-MS. Chemical Geology. 593, 120754.
Ming Yang et al. (2020). Accurate and precise in situ U-Pb isotope dating of wolframite series minerals via LA-SF-ICP-MS. Journal of Analytical Atomic Spectrometry. 35, 2191-2203.
---
Previous winners of the IAG Young Scientist Award 2017 – 2022
---
Winners of the IAG Early Career Researcher Award  2006 – 2014

2014 – Corey Wall
2013 – Satoki Okabayashi
2012 – Marcela Camargo
2011 – Leah Morgan
2010 – Regina Mertz-Kraus
2009 – Adrien Maestrot
2008 – Alon Amrani
2007 – Jérôme Chmeleff
2006 – Malka Machlus