The Early Days of the IAG – personal recollections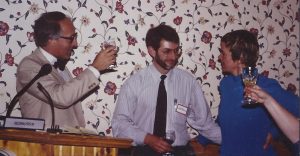 The seeds that grew into what became the International Association of Geoanalysts (IAG) were sown in June 1990 in the beautiful Grandview resort in the Muskoka Lakes district, Ontario, Canada by Gwendy Hall and Chris Riddle.
They recognised the need for a meeting that focussed on the particular challenges encountered when analysing complex geological and environmental materials. Gwendy, who was then head of the analytical laboratories of the Canadian Geological Survey, and Chris from the Ontario Geological Survey organised the very successful Geoanalysis 90 conference. It brought together scientists from 17 countries … [read more].