G-Probe programme for laser ablation and microbeam techniques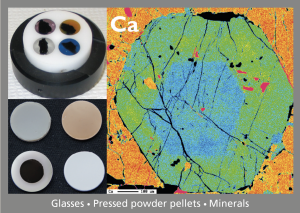 The G-Probe microanalytical proficiency testing programme was initiated in 2001 and run for many years by Steve Wilson of the United States Geological Survey (USGS) through the IAG. It is designed to evaluate laboratory performance for those labs specialising in the use of microanalytical techniques such as LA-ICP-MS, EPMA, SEM and µ-XRF for the analysis of minerals and other geological materials. The programme combines natural and synthetic geological glasses with pressed powder samples representative of oxide, carbonate and phosphate materials and natural minerals. The composition of previous test materials can be found here.
Participating laboratories are provided with two test samples a year and are asked to send the organisers their results acquired under routine conditions. The data submitted are evaluated using guidelines established by the GeoPT programme, with an assessment of accuracy based on the Z-score approach. Laboratories are provided with feedback on each element, from which the laboratory can decide whether their reported data were satisfactory or possibly affected by unsuspected bias.
Objectives of the G-Probe Programme:
To enable laboratories to evaluate the routine analytical capability of their microprobe techniques on a diverse range of sample types commonly encountered in the field of geochemical analysis.
To enable participants to evaluate their performance relative to other micro-analytical laboratories using the same or similar techniques.
Steering Committee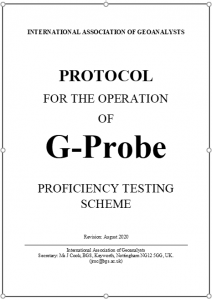 Dr C-D Garbe-Schönberg, Scheme Administrator and Chair (CAU, Kiel University, Germany)
Dr Peter Webb, Administrator (formerly of The Open University, Milton Keynes, UK)
Prof Phil Potts (The Open University, Milton Keynes, UK)
Dr Charles Gowing (British Geological Survey, Nottingham, UK)
Prof Leonid Danyushevsky (CODES Laboratory, Hobart, Australia)
Dr Regina Mertz-Kraus (University of Mainz, Germany)
Prof Michael Thompson, Statistician (Birkbeck College, University of London)
Dr Andreas Kronz (University of Göttingen, Germany)
For full details about the operation and organisation of the scheme, please consult the G-Probe protocol.
Interested in joining G-Probe?
To register your interest in joining the G-Probe programme, go to the G-Probe website www.gprobe.info and click on the link "Register interest here".
Want to know more about G-Probe?
For information about the test material, its delivery and the programme, contact Dieter Garbe-Schönberg: dieter.garbe-schoenberg@ifg.uni-kiel.de
For information about the G-Probe website and reporting results online, contact Peter Webb: gprobe.iag@gmail.com
For information about subscriptions and payments, contact Chris Jackson: iag-treasurer@virginmedia.com